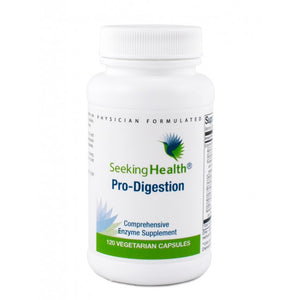 Suitable for Vegans and Vegetarians
Free of:
Dairy, Egg, Fish, Shellfish, Tree Nuts, Peanuts, Wheat, Soy, Gluten
Pro-Digestion by Seeking Health is a comprehensive vegetarian digestive enzyme supplement that provides targeted enzymes for efficient breakdown of carbohydrates, fats and proteins. Digestive enzymes help your body break down food and absorb nutrients from meals. Complete digestion and absorption of nutrients are important for maintaining proper bodily functions and a healthy immune system. Pro-Digestion provides a wide variety of vegetarian digestive enzymes that assist in digesting proteins, fats, complex carbohydrates, sugars, and fibers. Pro-Digestion is formulated for daily maintenance use or as needed.* 

Protein molecules require multiple enzymes for complete digestion. Proteases degrade proteins into peptides of 10 to 20 amino acids in length. Peptidases then complete the process by splitting peptides into single free-form amino acids that are used by the body. Incompletely digested peptides from casein (casomorphins), gluten (gluteomorphins), soy, or yeast may cause adverse effects in some individuals. Pro-Digestion provides a protease peptidase complex with dipeptidyl peptidase IV (DPP-IV) activity.* 

The amylase enzyme group digests carbohydrates by breaking down sugar and starch, and eventually converting them into glucose to be used for energy. Fats, or lipids, are broken down by the enzyme group lipase, into smaller units of glycerol and fatty acids for transport via the blood stream.* 

Mid-range amounts of lactase (digestive enzyme specific to lactose, or milk sugar) and alpha-galactosidase (specific to legumes such as beans, lentils, etc.) are included so that individuals who have difficulty with these particular foods can adjust their dosage according to their healthcare professional's recommendation.* 
Suggested Use
2 capsules at the beginning of each meal or as directed by your health care professional. Capsules may be pulled apart and nutrients taken separately.
Warnings
Children and pregnant or lactating women should consult their healthcare practitioner prior to use. Do not use if full-bottle shrinkwrap is broken or missing. This product may not be appropriate for those with known allergies to Aspergillus enzyme proteins, though non-specific mold allergies do not necessarily preclude use of fungal-based enzymes.
Serving Size: 2 Capsules
Servings Per Container: 60
Supplement Facts
AMT
%DV
Enzyme Blend
496 mg
**
With the following minimum enzyme activity:
Alpha-Amylase
15000 DU
**
Glucoamylase
27 AGU
**
Protease/Peptidase Complex (endopeptidase 38 AP, exopeptidase and DPP-IV activity 20 SAPU)
40000 HUT
Cellulase
800 CU
**
Invertase
200 INVU
**
Bromelain
550000 PU
**
Lactase
1500 ALU
**
Alpha-Galactosidase
120 GaIU
**
Lipase
500 FIP
**
Hemicellulase, Beta-Glucanase, and Phytase Blend
800 MU
**
% DV (Daily Value) based on standard 2,000 calorie daily intake
**Daily Value not established
Other Ingredients: Vegetarian capsule (hydroxypropyl methylcellulose, water), cellulose, and L-leucine.
*These statements have not been evaluated by the Food and Drug Administration. This product is not intended to diagnose, treat, cure, or prevent any disease.