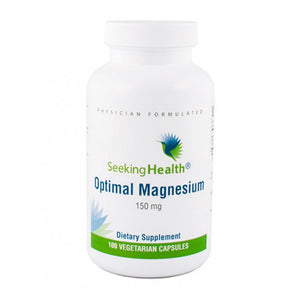 Optimal Magnesium
100 Capsules
Key Benefits and Actions*
Provides a combination of popular magnesium forms
May help support healthy energy production
May help support bone and muscular health along with a healthy diet rich in calcium and other minerals
May help support a healthy nervous system
Suitable for Vegans and Vegetarians

Free of:

Dairy, Egg, Fish, Shellfish, Tree Nuts, Peanuts, Wheat, Soy, Gluten, GMO

Optimal Magnesium by Seeking Health provides 150 mg of high potency magnesium per vegetarian capsule. Magnesium is an important and abundant mineral naturally present in the body, which acts as a cofactor in hundreds of enzymatic processes and systems. It helps regulate biochemical reactions in the body, including protein synthesis, muscle and nerve function, normal sugar and carbohydrate metabolism and healthy blood circulation. Magnesium is involved in normal muscle relaxation by inhibiting calcium influx and smooth muscle contraction. It is also important for energy production, oxidative phosphorylation, and glycolysis. It contributes to the maintenance and development of healthy bone structure and is needed for the synthesis of DNA, RNA, and glutathione, an important antioxidant.* 

Optimal Magnesium contains bioavailable Albion® DiMagnesium Malate and TRAACS® Magnesium Lysinate Glycinate Chelate. Magnesium malate is the combination of magnesium with malic acid, an acid found in vegetables and fruit. The weak bond with magnesium makes this form readily soluble in the body. Malic acid is a key component of several energy production reactions in the body. Highly absorbable and typically well-tolerated, the chelated form of magnesium in this product, magnesium lysinate glycinate, rarely causes adverse gastrointestinal side effects often seen with other forms of magnesium when consumed in higher amounts.* 

Suggested Use

Take 1 capsule with or without food or as directed by your healthcare professional.

Warnings

Children and pregnant or lactating women should consult their healthcare practitioner prior to use. Do not use if tamper seal is damaged. Consult with a healthcare professional before use if you are using antibiotics, blood pressure medications/calcium channel blockers or other medications.

Serving Size: 1

 

Servings Per Container: 100

Supplement Facts

AMT
%DV
Magnesium (80% as Albion® Dimagnesium Malate and 20% as TRAACS® Magnesium Lysinate Glycinate Chelate)
150 mg
36%
% DV (Daily Value) based on standard 2,000 calorie daily intake
**Daily Value not established

Other Ingredients: HPMC (vegetable capsule), ascorbyl palmitate, medium chain triglycerides oil, L-leucine and silica.