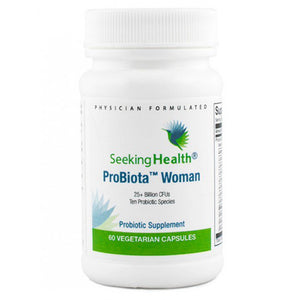 Suitable for Vegans and Vegetarians
Free of: Dairy, Egg, Fish, Shellfish, Tree Nuts, Peanuts, Wheat, Soy, Gluten
ProBiota Woman by Seeking Health is a specialized blend of ten different types of "friendly" probiotic bacteria in a prebiotic base that may help support a healthy genitourinary system healthy vaginal microflora. Probiotic bacteria such as Lactobacillus and Bifidobacterium species are normally found in a healthy genitourinary tract and are important to maintaining healthy pH levels and supporting the body's natural defenses against unwanted organisms. ProBiota Woman contains a targeted selection of probiotics to help maintain a proper balance of beneficial microorganisms in the genitourinary tract and lend natural support for a healthy genitourinary system.* 

ProBiota Woman delivers large amounts of specific probiotics, such as Lactobacillus acidophilus, to promote vaginal microflora balance. Normal vaginal acidity is important for maintaining a healthy vaginal environment and microflora balance. Lactobacillus species are thought to support a healthy vaginal pH by producing lactic acid. The presence of lactic acid lowers pH, creating an acidic environment, which may be less suitable for opportunistic pathogens. The probiotic species supplied by ProBiota Woman may also help support healthy mucosal cells, a normal immune response, as well as gastrointestinal health. Inulin, the prebiotic base for this probiotic supplement, provides nutritional support for the beneficial bacteria. The proprietary polysaccharide complex helps to support survival of viable organisms through the digestive tract.*
Suggested Use
Take 1 capsule daily with food or as directed by your healthcare professional. Capsules may be pulled apart and nutrients taken separately.
Warnings
Children and pregnant or lactating women should consult their healthcare practitioner prior to use. Do not use if full-bottle shrinkwrap is broken or missing.
Serving Size: 1 Capsule
Servings Per Container: 60
Supplement Facts
AMT
%DV
Probiotic Blend (25 billion CFU) in a base of inulin (derived from chicory root)
300 mg
**
Lactobacillus species
20 billion CFU
Lactobacillus acidophilus
Lactobacillus brevis
Lactobacillus rhamnosus
Lactobacilus gasseri
Lactobacillus casei
Lactobacillus salivarius
Lactobacillus plantarum
Bifidobacterium species
5 billion CFU
Bifidobacterium bifidum
Bifidobacterium breve
Bifidobacterium longum
% DV (Daily Value) based on standard 2,000 calorie daily intake
**Daily Value not established
Other Ingredients: Vegetarian capsule (hydroxypropyl methycellulose, water), proprietary polysaccharide complex, and L-leucine.
*These statements have not been evaluated by the Food and Drug Administration. This product is not intended to diagnose, treat, cure, or prevent any disease.